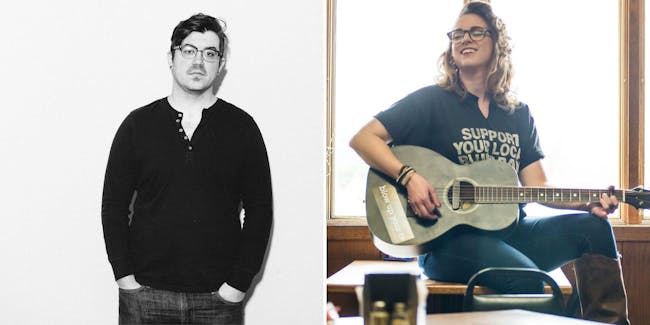 Kyle Cox with Ellie Perleberg at The Warming House 2/27/19
It might seem incongruous that the most intimate songs that flow from the heart and pen of a skilled songwriter are also sometimes the most deeply relatable to many who hear said songs, but that is the sonic sweet spot in which Kyle Cox practices his craft. The hoops- and hooks-loving (basketball and catchy songs, respectively), Nashville-based Cox, who recently signed a label/management deal with Rock Ridge Music, will consummate the partnership with the June 3, 2016 release of his five-song EP, Trio and Friends.
"Immediately, from the first time I sat down with them, it seemed to click," says Cox of the determining factor that sparked the flame that fueled his decision to make Rock Ridge Music his home – his musical sanctuary. "They seemed to understand who I was as an artist. They appreciated the blue collar aspect of my touring, my hard work and hit-the-pavement-running work ethic. It was just cool all around." OnTrio and Friends, the comfortable artist-label relationship and aural rubber immediately meets the road with the opening track, ties-that-bind, tale "Trusty Ol' Pair of Boots," in which Cox sings, "Built to last and never fall apart/only fits better over time," referring to his closest and most trusted partner in life. "The whole song is about my wife and the idea of marriage in general," he vows. "The first verse is about the warm feeling love can give you and the ability to brighten up your day, or to keep you warm and safe or protect you, like a nice pair of boots can do."
Cox's uncanny ability to connect with his audience is the bridge that leads his followers over the troubled waters of everyday life, like in the lonesome lullaby "The One Left Behind." At first listen, one can be unsure if the singer is longing for the one who got away for good, or simply missing someone you always want by your side. "That was a unique song for me to write, 'cause I don't normally write the way I wrote that song," Cox confesses. "That song started a little more stream-of-consciousness for me and I don't necessarily go that route – I'm a lot more methodical when I write. The chord progression felt very lonely and sad and the words that were starting to come out were very lonely and sad."
Born a military kid in the Lone Star state of Texas, Cox spent a lot of his life moving around, putting down and pulling up stakes in Omaha, NE, Washington, DC, and, around his middle school days, Orlando, FL, where he spent 17 years and pledged his undying allegiance to the city's NBA team, the Magic. "Oh man, I think it's a beautiful game," he gushes about his beloved basketball. "Sports helps me a lot with learning to work with other people, how to push through difficult things, not giving up, not throwing in the towel just because it's difficult, and realizing there's always an opportunity for a comeback; there's always an opportunity to nail a buzzer-beater in life."
Life – and the lessons that it teaches us all – is at the center of every song on Trio and Friends. Inspired in part by a character in John Steinbeck'sEast of Eden, "Richest Man Alive" should seemingly serve as the soundtrack to everyone's life, in that it hammers home the universal message that the most important things in life are family and friends. "I've been married for three-and-a-half years at this point and my wife is amazing. I honestly could not be doing what I'm doing if it wasn't for her. Her belief and trust in me and what I'm doing has been a huge gift in my life. What I need is actually right in front of me, in my wife and friends."
Dovetailing on the old adage that behind every great man, there's a great woman: behind every great album, there's a great producer. In Cox's case, his producer, Mike Marsh (drummer of The Avett Brothers), just so happens to be one of his dearest, closest friends. "Mike and I have had a really cool relationship," says Cox of the man who was also behind the making of his 2014 release, The Plan, The Mess. "Through that time, we became super good friends, beyond just a producer-musician relationship. Honestly I consider Mike a really great friend, well before I consider him a producer." Mix Marsh's masterful production work with Cox's predilection to use a trio configuration in the studio and the result is the bouncy boy-wants-girl-but-she's-out-of-your league saga "Just Outta Reach" and the six-minute masterwork "The Artist," the two tunes that round out Trio and Friends.
Why a trio? Cox explains, "Ultimately I just consider myself a solo singer-songwriter, and this just happens to be the way I've dressed up this record. I've been a huge fan of John Prine, and I saw him play for the first time about a year or so ago. I was like, 'Man, that sounds so cool, so full, but still allows the song to shine,' so I was really inspired by that. And then I'd been listening to Willie Nelson a whole lot, too, and it seemed the more I listened to those older records, and pay attention to the production, the more that they allow space, they highlight the song. I wanted to pay homage to those who came before me: Willie Nelson, John Prine, Johnny Cash and those guys. So we did a trio, and we actually tracked it live. What you hear on the record is a live, one take of that song."
Cox has traversed many miles and musical styles before landing in the sweet spot in life he currently finds himself in. He recalls his first musical enlightenment being the first time he discovered his father's copy of Pink Floyd's The Dark Side of the Moon album when we he was about 11 years old. "I especially was drawn to David Gilmour's guitar playing, and so at the time I was like, 'I wanna be a lead guitar player.'' Later, his uncle introduced him to the aforementioned Prine, which was "the second (aha) moment where I was just like, 'Oh, wow, okay, this is actually what I wanna do."
Now firmly pledged to the historic fraternity of Nashville songwriters, Kyle Cox has the tools at his disposal to build a solid bridge that leads to a long career. And it all begins and ends with just one thing: the song. When asked to describe the feeling he gets when he finishes writing a song and he can say to himself, "That's it! I got it!," Cox doesn't hesitate for a second to respond, "Oh dude, that's the best feeling in the world. I love it, man!"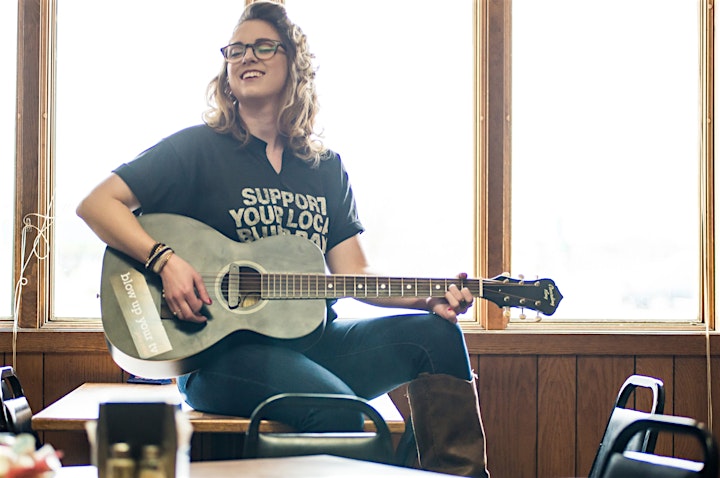 Ellie is a loud-mouthed little trouble maker from up north Minnesota who sings songs about ghosts and girls.

Venue Information:
The Warming House
4001 Bryant Avenue South
Minneapolis, MN, 55409